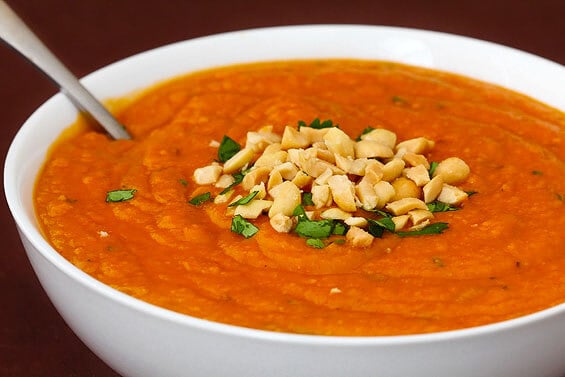 Peanut soup is one of the most famous soup in West Africa. People from Guinea, Senegal, Mali, etc love this recipe. some cook the peanut soup with beef other with fish or chicken, some even cook it in a vegetarian way. But we all agree on on thing "this soup is very delicious". in this video I am going to show how to cook it with smoked fish. It is easy, simple and delicious. so let's start...
Ingredients
Smoked fish

1 Large

, cut into average sized pieces

Vegetable oil/Peanut oil

3 Tablespoon

Onion

1 Large

, minced

Garlic clove

3

, chopped finely

Peanut butter

4 Tablespoon

Fresh tomatoes

2

, mashed

Tomato paste

1 Tablespoon

Black pepper

To Taste

Bouillon cube

1

(Maggi Jumbo OR Chicken Seasoning)

Salt

To Taste

Chili

To Taste
Directions
MAKING
1. In a pan, heat the oil and brown onions for 1-2 minutes.
2. Add the mashed tomatoes, tomato paste, garlic and black pepper. Cook for 10 minutes.
3. Pour 3 cups of water and then add peanut butter. Simmer for another 10 minutes.
4. Add fish, chili, salt and chicken seasoning. Cook on low heat for 15-20 minutes.
SERVING
5. Serve hot with rice.
Recipe Summary
Preparation Time:
20 Minutes
Try this African delicacy for a change. Peanut Butter and Smoked Fish Soup has the smokey flavor from the fish and the rich thickness from peanut butter. It comes together well as a simple and flavorful dish. Watch this video to try out this recipe!